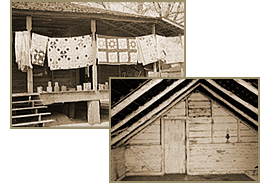 Hidden in Plain Sight

People planning to escape slavery had to be very careful. One word overheard by the wrong people could spoil even the most carefully-made plans.

In order to keep their escapes secret, slaves used many other ways to talk with others before and during their escapes.

To ordinary people, these forms of communication were very innocent. To escaping slaves, they might mean the difference between life and death.
In this section, you can explore some of these secrets.