Mapping Maryland's Freedom Trail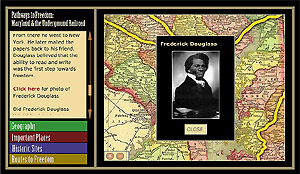 A map tells many things. It shows cities, towns and interesting places. It helps you to see how far one place is from another. It can show waterways, mountains and rivers. It gives you a picture of the way an area of the world looks.

This map will help you explore places in Maryland that are linked to the people and places of the Underground Railroad. You'll look at:
Historic sites from the 19th Century that exist today.
States where slavery was allowed, and states where slavery was prohibited.
Three routes Maryland enslaved people followed to freedom.
How did the geography of Maryland sometimes help and sometimes hurt those escaping?

Why was the Mason-Dixon line so important to those escaping?

These are just a few of the questions that this map can help you investigate.

Go to the interactive »
(Clicking on the link will open a new browser window)

PLEASE NOTE: This interactive requires version 5 or later of the Flash Player plug-in and works best on 4.0+ web browsers. To get the free Flash Player, click on the button below.