Make Your Own Secret Quilt Message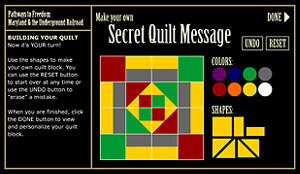 The Underground Railroad was actually a carefully organized movement against the people who owned slaves and the governments that said they could do this. Many people who had lived in slavery saw no other way out. But, in doing so, they — and the people who helped them — broke many laws of the time. Not all escaping slaves made it to freedom. Many times, they were captured and returned to their owners. But they felt they needed to do try.

How do you feel about the secret system that helped them escape? Would you have been brave enough to try to travel to freedom? What images do you see in your mind when you think of slavery, people escaping slavery, or the Underground Railroad in general?

Here's your chance to share these images and ideas with others.

Go to the interactive »
(Clicking on the link will open a new browser window)

As you work with this activity, keep in mind that shapes can be overlapped to create more shapes and a wider variety of patterns.

PLEASE NOTE: This interactive requires version 5 or later of the Flash Player plug-in and works best on 4.0+ web browsers. To get the free Flash Player, click on the button below.